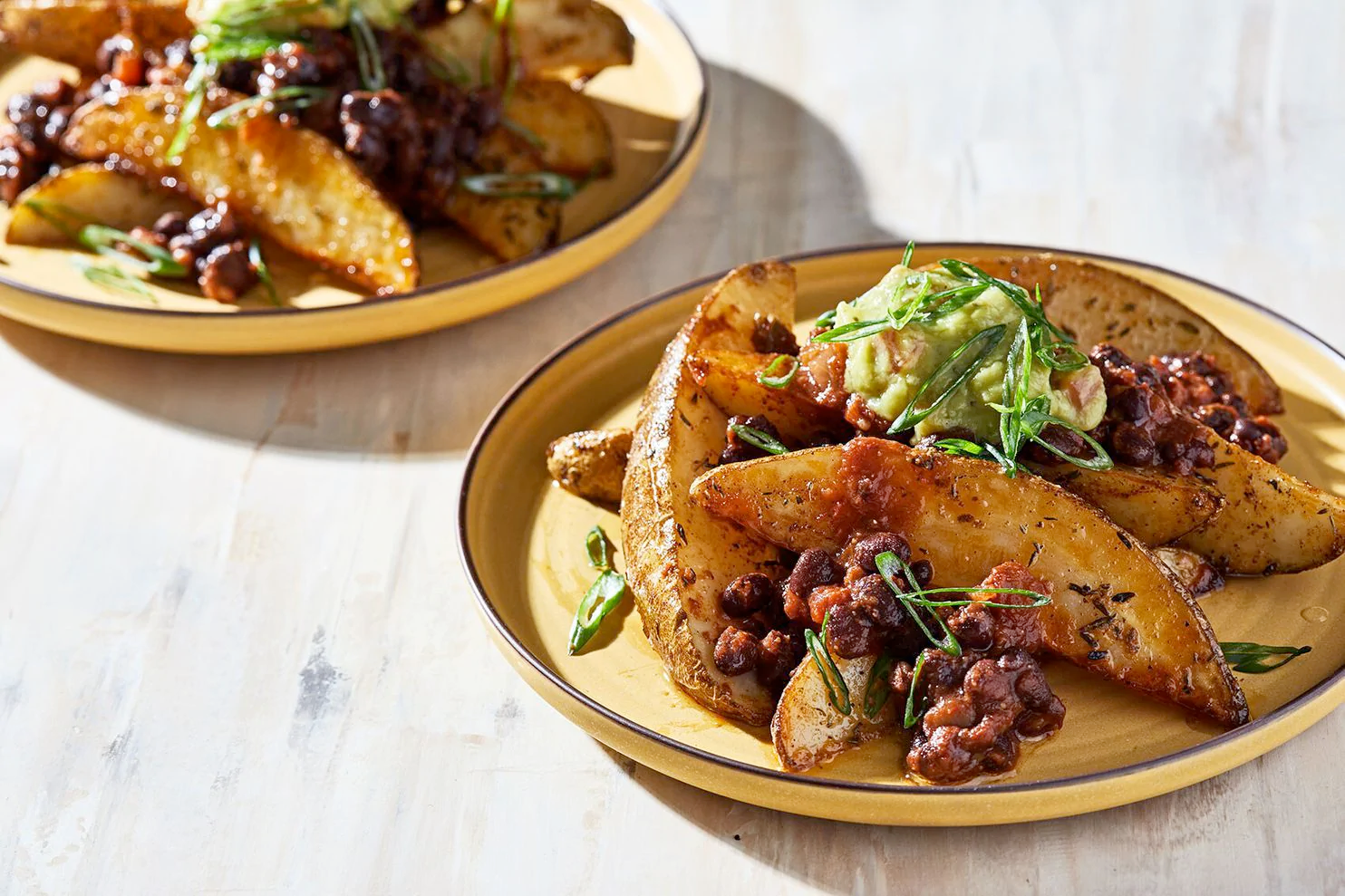 Roasted Potato Wedges With Black Bean Chili
I'm guessing that there is a lot more home cooking going on now that we are grappling with the Covid-19 virus. Here in Black Mountain all the restaurants are closed except for take out service. Schools are closed. A lot of workplaces are in work-from-home mode. You add this up and "What's for dinner?" is an every night thing now.
When I came across this recipe in the Washington Post and it sounded perfect for a quick but hearty meal. Not a lot of prep work and quick cooking time makes this just what I was looking for. So I made this last night and I was quite pleased. It was tasty and filling and took me all of 30 minutes to put together.
The "chili" is particularly brilliant. Some canned black beans and a jar of salsa and you are basically good to go. I used some of the Smoking J salsa that we sell in the store. And I roast potatoes all the time but the seasoning that this recipe puts on prior to putting the potatoes in the oven changes them from plain to restaurant quality.
Give this one a try some night when you don't want a big fuss for dinner.
Roasted Potato Wedges With Black Bean Chili
Ingredients:
4 large Yukon Gold or russet potatoes (12 ounces each), cut into 8 wedges each

1 tablespoon extra-virgin olive oil

1 teaspoon dried oregano

1/2 teaspoon garlic powder

1/2 teaspoon paprika

1/2 teaspoon kosher salt, or more to taste

1/4 teaspoon freshly ground black pepper, or more to taste

Two (15-ounce) cans no-salt-added black beans, drained and rinsed

One (12-ounce) jar tomato-based salsa (1 1/2 cups)

1/2 cup no-salt-added vegetable broth or water

1 tablespoon chili powder

1 teaspoon ground cumin

Guacamole, for serving (optional)

Chopped scallions, for serving (optional)
Instructions:
Position a rack in the middle of the oven and preheat to 400 degrees.
In a large bowl, toss the potato wedges with the oil, oregano, garlic powder, paprika, salt and pepper. Transfer to a large, rimmed baking sheet and roast for 20 minutes. Turn the potato wedges over and roast an additional 10 to 15 minutes, until golden brown and tender.
Meanwhile, in a medium pot over medium-high heat, stir together the beans, salsa, broth or water, chili powder and cumin. Bring to a boil, then reduce the heat to medium-low and simmer until the chili is thick and the flavors have melded, 10 to 15 minutes. (If desired, use a potato masher to mash half the black beans for a thicker chili.)
Divide the potatoes among serving plates and top with the chili and, if desired, a dollop or two of guacamole and/or scallions.